For publications, click on the bouncing white ball below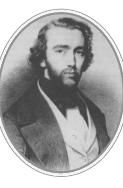 Adolphe Sax 1814 - 1894
Sax was a Belgian, who invented the saxophone in 1840. He was musically trained at the Brussels Conservatory in flute and clarinet, and he studied instrument making with his father, Charles.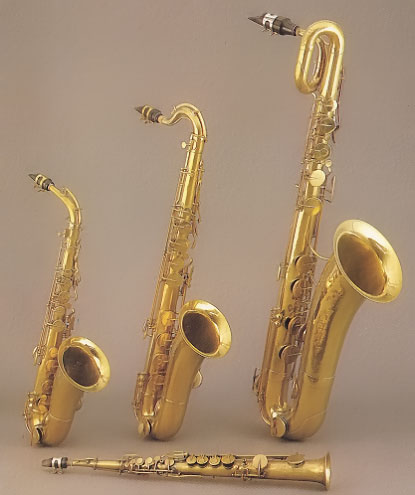 Adolphe Sax's family of saxophones, ca. 1860
From smallest to largest: Soprano, alto, tenor, baritone
1814 – Adolphe Sax is born in Dinant, Belgium, where he studied instrument making with his father, Charles- Joseph (1791-1865).
1834 – Adolphe Sax perfects bass clarinet design by improving keywork and construction.
1840 – Saxophone invented by Adolphe Sax, in Paris. Originally called a saxhorn, since his goal was to create an instrument which was a hybrid possessing woodwind and brass elements.
1842 – Sax's close friend Hector Berlioz writes an article in a Paris magazine describing Sax's newest invention.
1844 – Berlioz conducts a concert featuring an arrangement of his choral work Chant Sacre, which includes saxophone.
1844 – Saxophone exhibited for the first time at Paris Industrial Exhibition.
1845 – Sax successfully re-tools military band arrangements by replacing oboe, bassoons, and french horns with saxophones in Bb and Eb, producing a more homogenous sound.
1846 – Sax granted patent for saxophone
1853 – Saxophone first played in the United States
1858 – Sax becomes Professor of Saxophone at Paris Conservatory.
1866 – Sax patent expires. Millereau Co. patents Saxophone-Millereau, which features a forked F# key
1868 – Gautrot, Pierre Louis & Co. devises screw-in pad system and mechanism inside pad cup to keep outside of pad flat.
1870 – Saxophones are used in bands of Gilmore and Sousa
1873 – American bandleader Patrick Gilmore (1829-1892) uses the saxophone in military bands for the first time in New York City
1875 – Goumas--patents saxophone with fingering system similar to the Boehm system, already in use for flute and clarinet.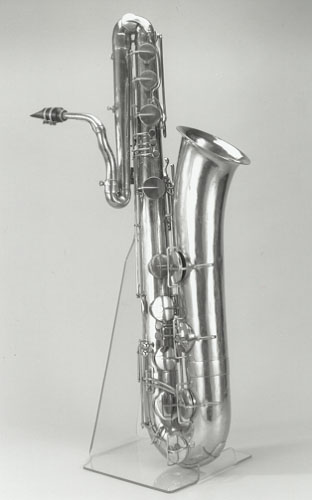 Adolphe Sax Bass Saxophone, 1876
1879 – Georges Bizet use the saxophone in his L'Arlesienne Suites No. 1 & 2
1881 – Sax extends his original patent and lengthens bell to include low Bb and A. He also extends the range upward to F# and G, with the use of a fourth octave key
1885 – The first saxophone is built in the U.S. by Gus Buescher. Other early makers include Holton, Martin, and White.
1886 – Association Des Ouvriers devises right hand C trill key, and a half-tone system for first fingers of left and right hands.
1887 – Association Des Ouvriers invents tuning ring, and the precursor of an articulated G# key. Evette and Schaeffer improve on articulated G# key so that G key can be held down while any finger of the right hand is being used They also improved the forked F#.
1888 – Lecomte invents the single octave key, and rollers for low Eb-C
1890 – The first known recordings of the saxophone.
1894 – Adolphe Sax dies.
1916 – Charles Ives writes a saxophone part in Symphony No. 4.
1917 – Benjamin Vereecken's Foundation of Saxophone Playing is published by Carl Fischer. It is still in print.
1920 – Saxophones sells extremely well, soon to be the major jazz woodwind, although the clarinet would still be more prominent through the dixieland and swing eras. School bands begin to form, using saxophones.

1922 – The Selmer Model 22 is introduced, using a forged key mechanism.

Selmer model 22
1926 – Selmer makes the Model 26, known as the "Pea Shooter" due to the small bore.
1927 – Ravel uses saxophones in his Bolero.
1929 – Sigrfid Karg-Elert (1877-1933) composes 25 Caprices for Saxophone.
1930 – Selmer acquires Adolphe Sax company.
1931 – Selmer produces the Cigar Cutter, so named for the flat plate with the hole, reminiscent of a cigar tip cutter.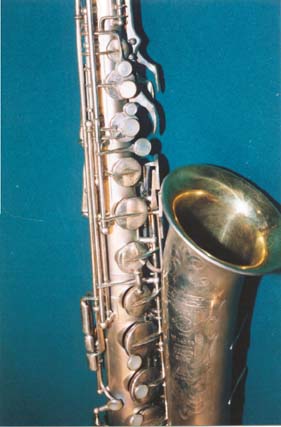 Selmer C melody cigar-cutter, ca. 1930
1933 – Selmer's octave mechanism is changed.
1935 – Selmer saxophones offer many mechanical changes, and the bell keys are put on the right side of the bell. Also, the action is balanced.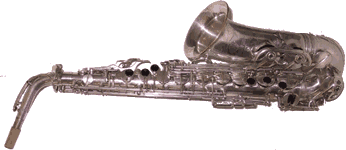 Selmer balanced action alto saxophone, 1939
1939 – Jazz saxophonist Arnold Brillhart begins design and production of mouthpieces.
1939 – Paul Hindemith composes a Sonata for alto saxophone and piano.
1941 – Top Tones, by Sigurd Rascher is released as a supplemental study of fingerings and tone production of the saxophone's altissimo register, almost doubling the range of the instrument.
1943 – Berbiguer's 18 Exercises is published by Marcel Mule.
1947 – Selmer makes the Super action Sax, another transitional model, with some changes in key leverages, but otherwise similar to the balanced action model.
1954 – The Selmer Mark VI Saxophone begins to be produced, with greater refinement of the mechanism, and many tuning improvements.
1975 – With the Mark VII, the bore and taper are changed to facilitate production of the altissimo register. Minor intonation improvements .
1976 – Standard high F# key added to Mark VII.
Selmer Mark VII
1976 – Selmer's square-chamber mouthpieces marketed.
1980 – Yamaha introduces 62 series.
1981 – Selmer S80 introduced.
1981 – Super Action 80.
1986 – Selmer S80 Series II introduced.
1987 – The Super Action Series II, with front "x" key more like clarinet A key, and a bent high F# key.
1989 – The Super Action Series IIa, with left hand little finger keys.
Email comments and questions to: